Exam prep and revision: making the most of mocks

At Casio, we understand that the current cohort of GCSE and A-level maths students preparing for examinations will need to be ready for all the challenges that exam time is likely to throw at them. This is particularly true for those in Year 13, who saw their GCSE studies heavily affected by the pandemic. As a result, they will go into their A-level assessments with limited experience of the difficulties and pressure involved in timed assessments.
However, unlike teachers, we're not on the frontline, seeing the evidence of these challenges every day. That's why we like to hear from experts about what they're doing to support their students and get them ready for exams.
We recently spoke to James Davis, Head of KS5 Further Mathematics at Newstead Wood School and spoke about the importance of mocks and the exam preparation methods that have worked well for his students.
Mocks: maximising the opportunity
For many schools, mocks have a key role to play in exam preparation, not only with respect to building students' confidence and getting them used to test conditions, but also to help teachers adjust their lesson plans and strategies.
James explained: "You've got a chance to review the mocks, which you won't have with the actual exam. So you can use the mocks to review your teaching and what topics you need to focus on. We do that analysis with the actual exams as well, but that's more for future years, it doesn't really benefit the current cohort.
"With mocks, you do the exam, you do the analysis, you know which topics you have to focus on and you adapt your teaching, so they have a more direct impact in terms of what you need to do."
James' school largely approaches mocks in the same way as final exams, with students getting time for study leave and receiving guidance on exam technique and how to make the best use of the time available for specific papers.
This helps to show students that, even though mocks are practice exams, they should still be taken seriously and used as an opportunity to prepare for the real thing.
When students sit their mocks, they experience what it's like to work under exam conditions, which should help them get more comfortable with pressure and learn to make the best use of their time.
What's more, they get an insight into common aspects of exams – such as questions relating to specific areas of given graphs – and can better prepare for them.
Exam preparation and tips
James explained that one of his top priorities when preparing for exams is to focus on questions from past papers, which he uses to start every lesson.
This illustrates one of the key characteristics of maths for teachers and students alike: it's a subject you learn best not by reading books or listening to teachers talk, but by doing it.
James has also found that giving his classes a steady stream of past questions to tackle helps them prepare for their final exams by getting used to working quickly and efficiently.
"[It's about] getting used to working under timed conditions," he said. "One of the things I'm encouraging my students to do is to take a two-hour paper, set themselves an hour slot and do half a paper in that time. Then [they] mark it, treat it like an exam and get used to the pressure of working under exam conditions."
This method can help students pinpoint areas where they are dropping marks and focus on these topics for revision ahead of the final exam.
Of course, this only works if you're using relevant questions, so be sure to get the most recent available papers from the appropriate examination board.
James also shared his practical tips for students preparing for exams, including:
Write at least something for every question, even if you're not confident. There's always a chance that having a go and showing some knowledge could earn some marks.
Use the 'mark a minute' method – so two-mark questions get two minutes of time, ten-mark questions get ten minutes, and so on.
For questions requiring words (e.g. some of the statistics questions) write in bullet points and be as concise as possible. Look at how many marks the question is worth and write that number of bullet points. Mathematics examiners don't want to read long chunks of text.
Choosing the right calculator
As far as calculator options are concerned, James' advice for single maths students who have become accustomed to the Casio ClassWiz is to stick with that for the exam, rather than trying to learn to use a complex calculator like the fx-CG50. The ClassWiz is a familiar option that provides the basic functionality required for A-level examinations.
The fx-CG50 can certainly be advantageous in single maths, but in further maths, statistics and core maths, it's indispensable. Crucially, students need to be comfortable using it, and will see the best results if they purchase the calculator at the start of Year 12 and use it regularly, both in and out of class, throughout the course. Once they become familiar with it, they will see how much support it can offer in the exam.
There are many ways the fx-CG50 can make a big difference to exam performance. Here are just a few of its potential applications:
Plotting and analysing polar and Cartesian graphs
Using the 'SolveN' function and getting numerical answers to many equations
Working with functions
Completing matrix and vector calculations
Running statistical calculations and hypothesis tests
James said: "If they have been using the CG50 from the word go at the start of Year 12, which my students have been, they have gained excellent skills and know how to get the best out of the calculator in an exam scenario.
"It just gives that big confidence boost and provides a tool to solve problems and check answers. It's a very, very powerful tool for exams."
Finally, James stressed the importance of remembering the basics, such as students setting their calculators in the appropriate exam mode – either IB or UK – and making sure they have fresh batteries.
If you want to ensure your students – both current and future – are getting the best out of the fx-CG50, you can sign up for a free Casio training session that introduces the key functions of the calculator.
Book your place here.
Recommended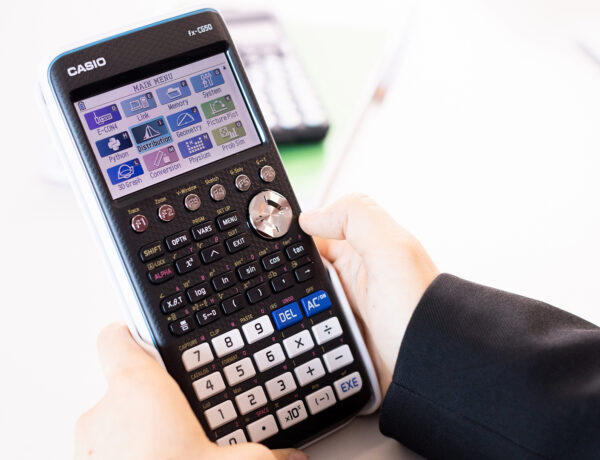 December 2023