Order for School
Educational Institution Orders
Casio provide supported education pricing to UK schools and educational institutions on Graphic and Scientific Calculators.

Click below to start your account order.
Welcome to our UK school and educational institution supported pricing offers.
Casio UK offer schools supported pricing and supply directly to UK schools and institutions (only with a valid postcode).
Supported prices are available on the fx-CG50 Graphic Calculator and all Casio Scientific models. To order for your school, simply follow the steps below.
How to order for your school on credit account
Choose your preferred Casio calculators

Select from Casio Graphic and Scientific models at supported school pricing.

Complete your contact details

We'll need this to contact you to confirm your order and clarify any account set-up or status details.

Provide your school delivery address

If you have an account, we'll process your order straight away. New accounts will be processed once account verification is confirmed.
Notes for ordering

fx-CG50 graphic calculator: RRP £139.99 inc VAT. Supported school price £69.95 ex VAT.
fx-991CW advanced scientific calculator: RRP £34.99 inc VAT. School price £20.99 ex VAT.

fx-85GTCW Scientific Calculator: £18.49 inc VAT. School price £10.79 ex VAT.
fx-83GTCW Scientific Calculator: £16.49 inc VAT. School price £9.62 ex VAT.

Please note the following minimum order quantities and/or order values:
fx-CG50 = 5 units.
fx-991CW = 10 units.
All orders are subject to a minimum order value of £250 ex VAT.

Payments can be made via BACS upon opening a credit account with Casio – you will receive the best discounts using this method. Credit is only available to UK educational institutions.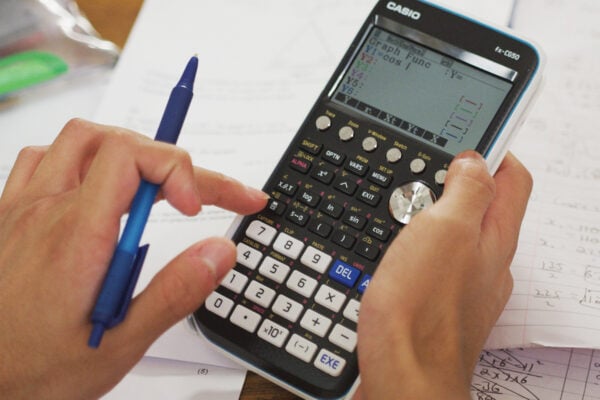 About the fx-CG50
Full capability high-resolution colour graphing
Everything a standard graphing calculator can do including all calculations, plotting graphs, solving equations, displaying and calculating probability distributions, plotting statistical charts, importing data, plus…
Features not available on lower resolution (64×128) black and white calculators:
• High resolution display (216×384) shows numbered and labelled axes with a lined grid
• Colour display distinguishes different graphs easily
• Plot and solve key points and intersection of 3D lines and planes
• Plot graphs with variable coefficients (great for studying transformations)
• Calculate integrals between roots and intersections of graphs